Plas-Tech Tooling: A Family Affair
December 19, 2022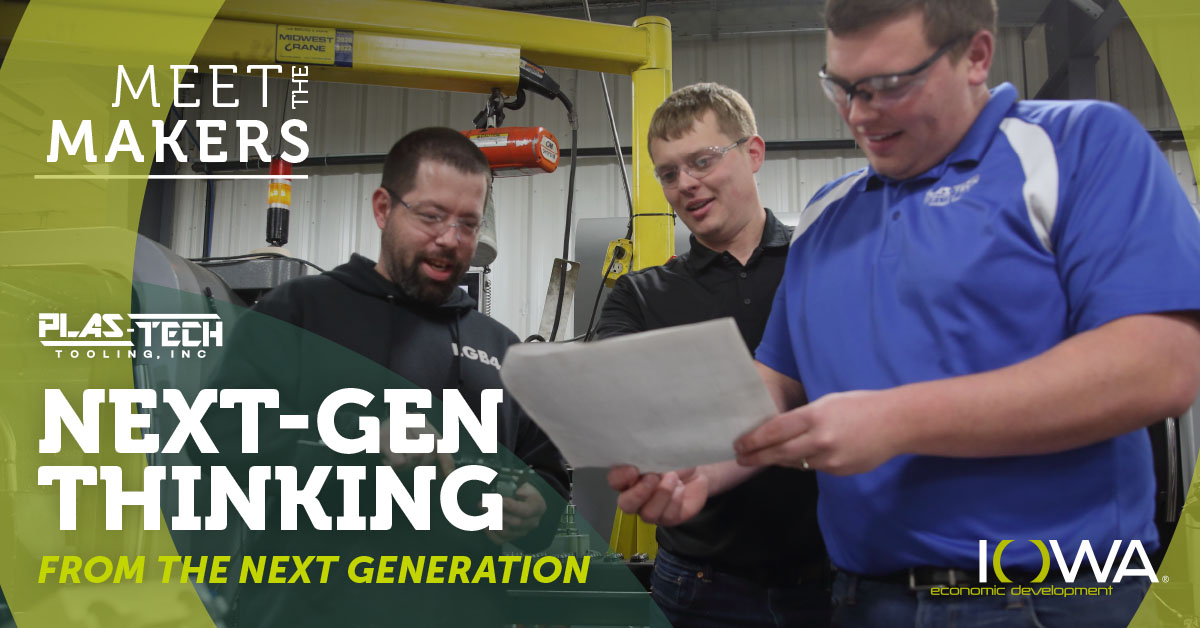 Managing and growing a business can be a challenge, but it helps when family is by your side. Just ask Ryan and Andrew Sonquist, managers of materials and business development (respectively) at Plas-Tech Tooling in Garner, Iowa. The production machining company was formed nearly 30 years ago by the brothers' parents, Dean and Marcia, as a small job shop in their garage.

Ryan and Andrew both attended college in Iowa and worked for other manufacturing companies before returning to Garner to work with their parents at Plas-Tech. Now, the two are tasked with maintaining a business portfolio that extends across the United States, Canada and Mexico and keeping the company on the cutting edge of the manufacturing industry. The brothers have been instrumental in technological upgrades, such as the purchase of a collaborative robot, which helps automate work and take on repetitive tasks so that employees can be trained for more sophisticated jobs.

Q: Tell us about what Plas-Tech Tooling does and the kinds of clients you serve. What is the company best known for?

Ryan Sonquist (RS): Dean started the company in his garage in 1993 with a focus on mold making and injection molding. Over the years, we morphed into a company that focuses primarily on production machining of plastic and metal parts. We produce components using computer numerical control (CNC) mills and lathes. We also handle assembly and production welding for customers who primarily specialize in heavy equipment manufacturing.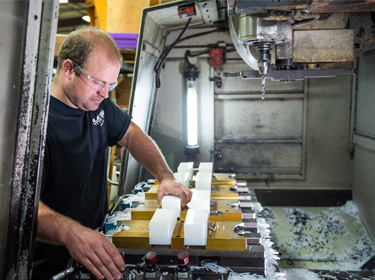 Q: Dean, how have you seen the business and operations change over time?

Dean Sonquist (DS): In the beginning, "the business" was just me. When you're a one-man band, you're doing every possible job that needs to be done – on the shop floor, working with customers, everything.

Since inception, our employees have grown to more than 30, and soon we'll have more than 40,000 sq. feet of total space. We're putting good things in motion, and Ryan and Andrew have done a great job as they've joined the company in the past few years. They're the succession plan.

RS: We've also expanded our customer base, and our sales have essentially doubled since 2020.

Q: Beyond familiarity, what benefits have you experienced by keeping the business in Iowa as opposed to another state?

RS: We're taking advantage of a variety of opportunities that Iowa offers including the Center for Industrial Research and Service (CIRAS) and training grants through North Iowa Area Community College. The state has also been very friendly toward businesses and helps them succeed through training and development. That's allowed us to add more technology and invest in our workforce.

DS: Iowa has a very business-friendly environment. The state's leaders are pushing for people to stay here and invest in the state, and that is such a breath of fresh air. I couldn't imagine a better caliber of living anywhere else. The people we work with are like an extension of our family. We care about them, and they care about us.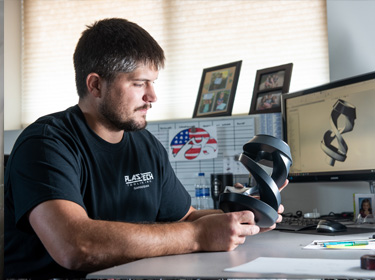 Q: Ryan and Andrew, it sounds like you've been instrumental in the company taking some significant technological steps forward.

RS: We've had to evolve. As the company grew to nearly 30 employees, having those new perspectives gives us fresh ideas on how we can improve. Utilizing the resources that the state offers through CIRAS and other initiatives has been critical. They've allowed us to be more strategic about planning ahead and more aware to the ever-changing needs of our customers, all while changing the way we pursue new projects.

Q: How has the Manufacturing 4.0 initiative helped move things forward at Plas-Tech?

Andrew Sonquist (AS): The Manufacturing Innovation Equipment Grant helped get us a collaborative robot known as a "cobot." We also did an assessment with CIRAS which helped us identify opportunities to integrate new technologies and optimize our team's efforts. We've also identified other improvement opportunities, including updates to our enterprise resource planning system and our cybersecurity protocols. These updates have been fantastic for our business, and we're excited to build upon the improvements we've already made.

Q: Being a family-owned and operated business, what's your work environment like?

DS: We all play a role in our success, which is one of the things my wife Marcia and I have made a priority – no one's job is more important than another's. Working hard while having fun is what we live by. We try to make the environment here one where our employees enjoy coming to work every day and we believe that our low turnover proves this to be true. The entire Plas-Tech team has become a part of our extended family. We've changed our working hours to four and a half day workweeks allowing employees to have Friday afternoons to go to appointments or just enjoy time with their families.

Andrew, Ryan, and I are always bouncing ideas off of each other. Everyone's job is vital, and hard work pays off. That's a lesson we intend to pass on to the next generation. My grandkids are probably going to grow up and see the same things that Ryan and Andrew saw when they grew up.