Iowa Institutions on Leading Edge of Medical Breakthroughs
June 30, 2021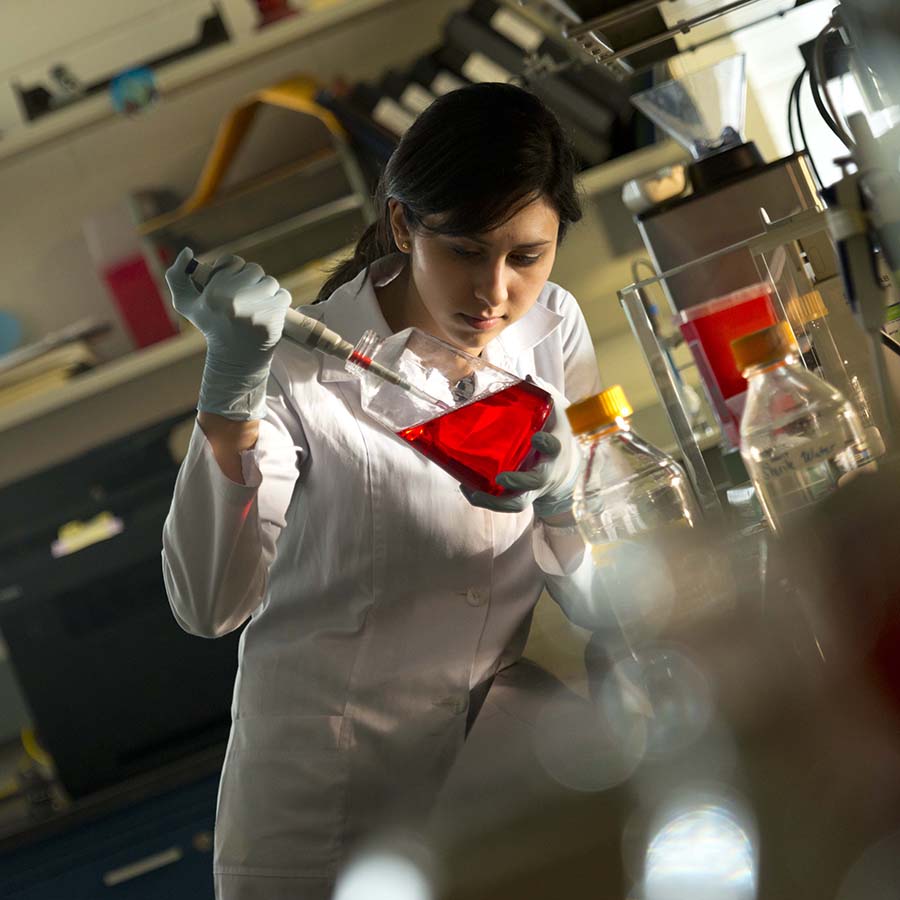 Published on BioFuels Digest on June 17, 2021

It's a safe bet that most people know much more about viruses and vaccines than they did a year ago. But while COVID-19 has brought viral diseases and the methods we use to fight them into the mainstream, experts at the University of Iowa (UI) and Iowa State University (ISU) have long led the way in searching for answers — and developing solutions — to many of the ailments that affect both humans and animals. And while the current pandemic has captured everyone's attention, researchers at both institutions are already looking for ways to prevent the next one from taking hold. From swine fever and avian influenza to cancer and Alzheimer's disease, they're always hard at work trying to solve the biological mysteries that we continue to contend with.

Many Species, One Health
At Iowa's academic institutions, expert teams practice a "One Health" approach that's focused on ensuring the well-being of all living creatures and understanding the important connection between human and animal health. Living in a world where diseases such as COVID-19 are known to jump from one species to another, close collaboration between veterinary and human medical experts is key to solving problems that can't be contained to one category or another. While the fight against COVID-19 continues, Iowa's experts are simultaneously monitoring and combating animal health threats in a collaborative network due to the state's strong position as a leader in research. The human-animal health research has sprouted a variety of efforts, including the launch of an Iowa startup that has the backing of two major pharmaceutical companies. 3D Health Solutions seeks to improve drug discovery and development through in vitro testing with multi-species organoids for the veterinary and human pharmaceutical industry.

When the COVID-19 pandemic began to take hold, demand for testing pushed labs across the world to their limits. Enter the ISU Veterinary Diagnostics Lab in Ames, which is accustomed to testing animal samples in great numbers. Where human testing labs were maxed out at hundreds of COVID-19 tests per day, the vet lab was able to shift gears and test thousands daily.

At the same time in Iowa City, UI emerged as one of the initial sites for vaccine clinical trials. Dr. Patricia Winokur, who led UI's trials for both the Pfizer and Novavax vaccines, said the university has a long history of successful participation in infectious disease trials because of its deep clinical expertise and the willingness of many trial participants who hail from throughout the state.

"Our Pfizer trial was one of the very first trials in the country," Winokur said. "[Iowans] were doing it for altruistic purposes to help us understand what we need to do to protect people."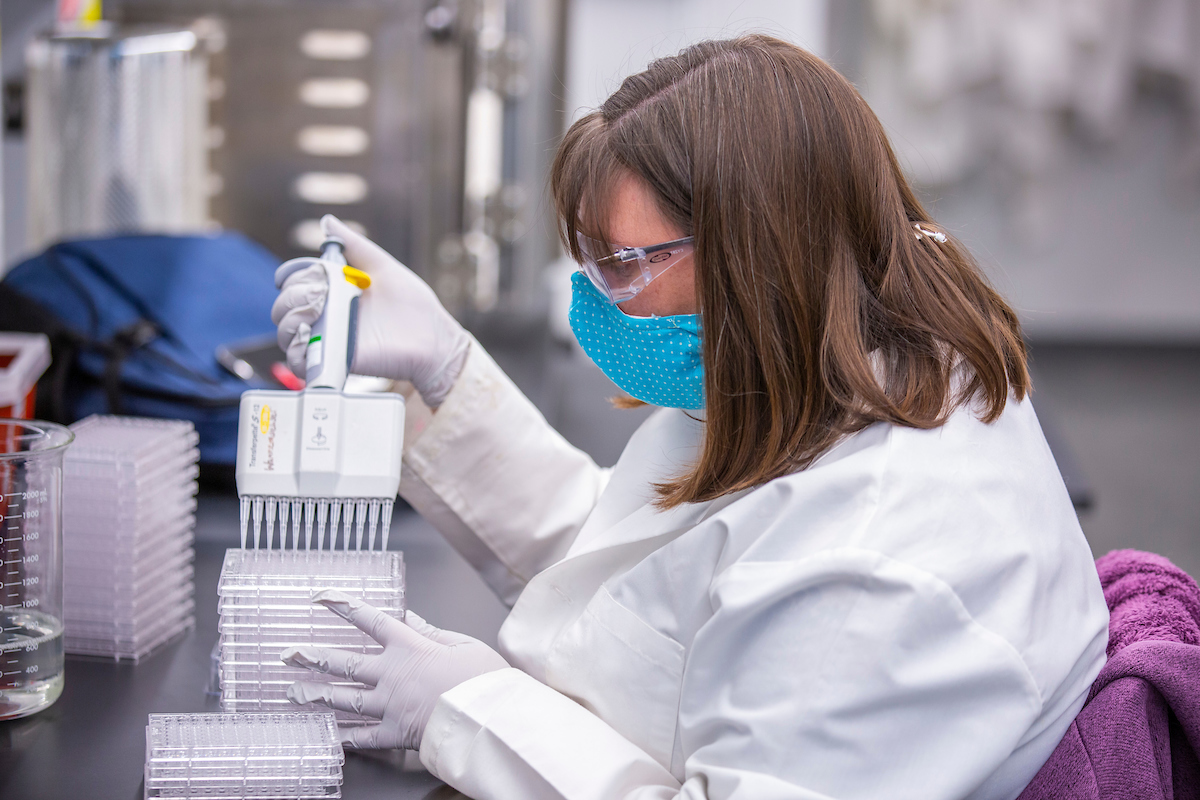 Charting the Future of Vaccines
Meanwhile, at ISU's Nanovaccine Institute, an interdisciplinary team of immunologists, nanotechnologists, microbiologists, cancer biologists, gerontologists, neuroscientists and social scientists are working to revolutionize how to treat and prevent diseases. The institute comprises more than 70 researchers from 21 universities — led by both UI and ISU, which make up about 40% of the team.

Balaji Narasimhan, PhD, an ISU chemical engineer who heads up the effort, said that nanovaccines are based on protein particles that exist inside a virus rather than "surface-level" proteins used to develop traditional vaccines. These protein particles send pathogen-like signals to immune cells to prevent diseases. Dr. Narasimhan said the nanovaccine approach brings multiple advantages: it's needle-free and eliminates the guesswork that's long been a part of developing vaccines. Nanovaccines also remain stable at room temperature — no cold chain needed — and take far less time to manufacture. These advantages extend to livestock as well, with nanovaccines providing an effective method of delivering vaccines at scale.

Dr. Narasimhan explained that nanovaccines are created using a "plug-and-play" platform that allows scientists to quickly pivot from work on one type of nanovaccine, such as the flu, to another, such as anthrax, by swapping proteins for whatever disease they're trying to prevent. And it's not just limited to prevention. He explained that nanotechnology also allows for a shift away from "one-size-fits-all" vaccines to more personalized approaches, such as different age-based formulations.

"The future we'd like to create — in partnership with the state of Iowa, companies and others — is to develop a vaccine for the next pandemic that could get to you in 60 days instead of 400," said Dr. Narasimhan.

Iowa's experts are also using nanotechnology to create specialized therapies for a whole host of diseases, including Parkinson's and Alzheimer's. With nanovaccines and medicines, they're working on developing treatments that target the delivery of very low doses of potent drugs to specific locations in the brain to slow down the progression of neurodegeneration. In much the same way, they're also studying how to deliver lower doses of malaria drugs to treat children and pregnant women who may otherwise be susceptible to the toxicity of higher doses. ISU's nanotechnology work holds promise for cancer therapies as well.

Attacking Cancer
Back in Iowa City, UI is home to the Holden Comprehensive Cancer Center, which works closely with the National Cancer Institute (NCI), Centers for Disease Control and Prevention (CDC), the Big 10 Cancer Research Consortium and many other institutions to fight the pervasive disease. Center director Dr. George Weiner said the university's efforts bring in more than $50 million a year in out-of-state funding.

"If you look at current cancer immunotherapies that are now being used worldwide, we participated in the research of many of them many years ago," said Weiner. "Our research is a vital step in the process, and it allows Iowans to have access to the newest treatments while we learn from them at the same time."

UI's cancer center is also playing a major role in advancing CAR T-cell therapy to treat cancer. Dr. Weiner explained that immune system cells are taken out of the body, genetically modified so they recognize the cancer and then given back to the same patient as a form of immunotherapy that can be incredibly effective. It's just one of many cancer-fighting tools the team is working to advance.

"What we're really focusing on now is identifying the right treatment for the right patient at the right time," Weiner said. "While two cancers might look identical under the microscope, they have different genetic makeups and they interact with the immune system in different ways. We really need to figure out that part, and that's why we're developing so many different tools. Knowing how to combine these tools is really challenging."

And if anyone's up to the challenge, it's Iowa's integrated team of experts across the academic, governmental and corporate landscapes. They understand the vital role collaboration plays in fulfilling the One Health vision and will continue working together in the ongoing fight against pandemics, diseases and other health threats. Learn more about Iowa's efforts at IowaEDA.com/bioscience.